I started my career on the back of a garbage truck, and now, 24 years later, I'm a self-made Executive Level Leader for a Fortune 500 Company.
As I moved through the ranks at WM, I saw how coaching, mentoring and development opportunities could transform the seemingly "average" professional into fulfilled, capable successful achiever.
For many years my focus was my growth and success. I love the process of continuous improvement, learning and evolving. However, my passion shifted when I was responsible for leading other talented individuals.
I started helping extraordinarily talented professionals who were unaware of their strengths and true potential. When I see this, my thought is always, "Let's flip that switch!".
Working with these professionals, I've enjoyed watching them transform. Shifting from overwhelm, spinning and letting the day happen to them into a state of finding their personal advocacy, the courage to set boundaries and release the fear of failure is just part of the shift they ached for prior to coaching.
It's always more than the results, the promotion, the whatever.
I get to see people come alive and watch the spark return back in their eyes.
I've been hooked ever since.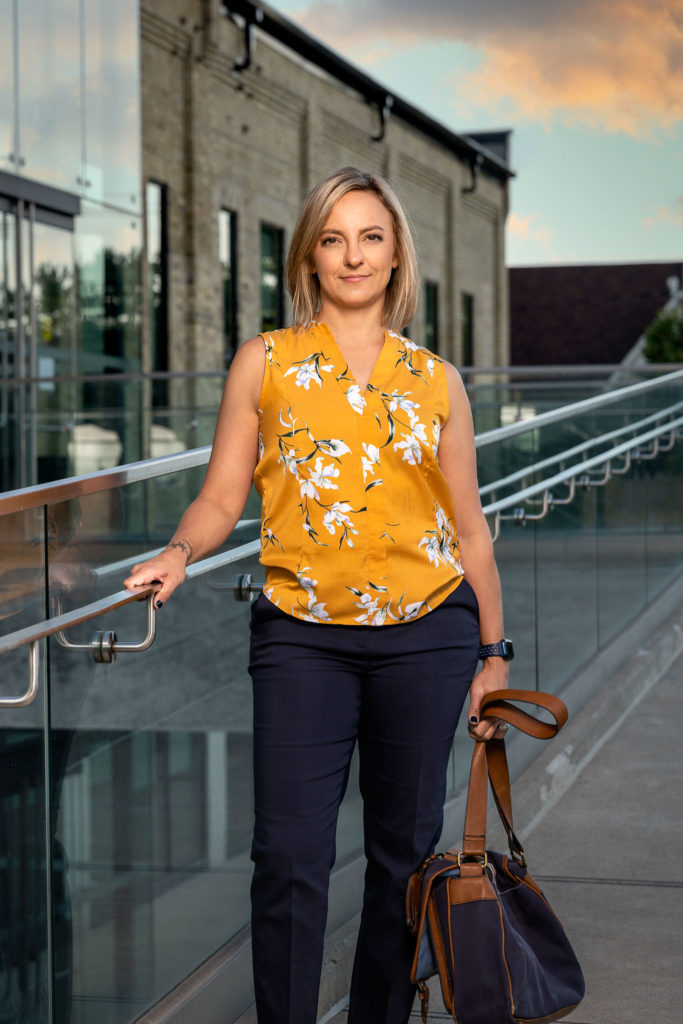 I started at WM in 1998 as a temporary garbage thrower soon after I obtained my commercial vehicle license, and bam! Just like that, I had a career.
After the birth of our first son, MacCauley, I started to grow a desire to be a leader. Of course, I know now that my then version of a leader was a task manager, but hey! Evolution is a beautiful process. So I started to invest in myself and found a true passion for learning and growth.
Once I crossed into the world of leadership from the hourly unionized employee world, I started as a frontline leader. Still, before long, I was promoted into one of my first pivotal roles as an Onboard Trainer.
With no experience, I was tasked to build an onboard program from scratch for our Area, which also required a technical driver-specific week. When I took this role, I didn't even know how to set up a meeting in OutlookFrom there, I was promoted several times. First, as a Recycling Plant Operations Manager in a new build facility. I then became a Plant Manager of a 9000 ton a month recycling processing plant in Kansas City, Kansas. This plant was part of an acquisition site, and I will say studying change management in theory vs living it on such a grand scale is two different things.
Today I am the Director of Maintenance for the provinces of Ontario and Quebec. We have 50,000 employees, and I am 1 of 17 Maintenance Directors. I am a self-made Executive level Leader who made it to this point without a doubt that it was with the help of others. But first, it started with my dream, my vision of wanting to be more, feeling like I could be more in my heart, and the "more" wasn't always clear; however, "more" wasn't where I was. Because of my vision to continue to grow, I could ask for help, leverage resources, and help others on their path; as I moved through mine and with the strength of community, I reached my more.
In my 24 year career, I have had some extraordinary highlights. I built an on-boarding program that is still in place today and implemented processes from nothing in new startup plants. I created a new revenue-generating option that produced 800k in the first year at one location. I shifted a District's safety culture from 8 OSHA recordables to 0 and led a District from an acquisition to a respected professional facility.
However, all that pails in comparison to those I had the opportunity to help grow. Time and time again, the professionals I have worked with often put themselves last, underestimate their value, their impact, they work hard but are not fulfilled. Yet, given the runway, support and focus, they stepped into their potential with command. It's the best documentary you can possibly watch.